As you are looking at your pregnancy test, you almost can't believe it. You, pregnant? The joy and bewilderment you feel in that moment is hard to describe. After eventually coming back to your senses, you realize that the hardest part is yet to come. And no, I am not talking about the 9 months, but about telling the news to your beloved ones in memorable fashion. Here are 5o adorable ways to do that:
1) As your husband is ready to go to work, just pretend that he forgot his lunch and hand a plastic bag over to him. Of course, inside the bag is your pregnancy test. Expect immediate reaction.
2) Take a photograph where you have a ribbon wrapped around your belly, with the tag "Do not open before XX", where XX is the due date.
3) Organize an impromptu photo session at your house with your husband. "But why?" Uhm, does it really have to be a reason? As Shia LaBeouf would say, "JUST DO IT!". Set the timer of the camera for continuous shooting and capture his reaction as you utter the words: I AM PREGNANT.
4) Create a card (Birthday, gift) for your parents and fill it out in MasterCard fashion. Write the cost of the gas, the cost of the printing, the cost of the card itself…and: Seeing your face as you read out loud that we are expecting – PRICELESS.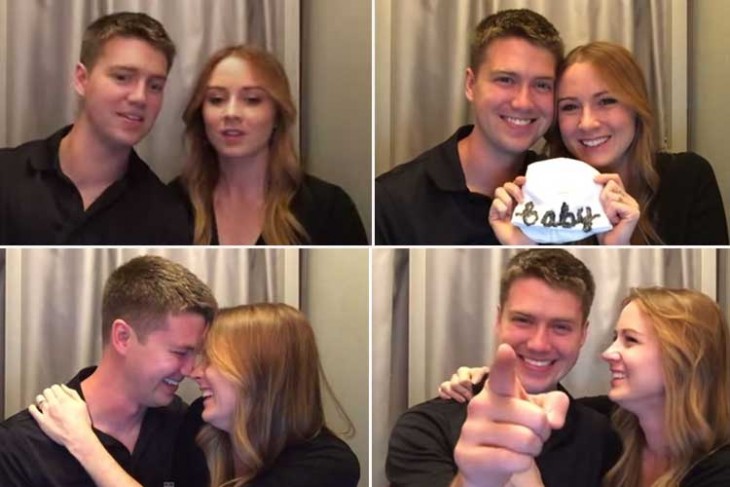 5) If you have friends or family members working at restaurants, this idea is amaze-balls. Take your family out to dinner and arrange for them to receive "custom" menus with the meals of the day, with each being preceded by 'baby'. Baby soup. Baby salad. Baby steak. Baby fries. Instead of prices, replace them with the due date. Sure, your idea might get hijacked if you have those kinds of relatives who go: "I don't need to see the menu! I know what I want!".
6) For those family members who are not fans of reading the news on a monitor, arrange with their paperboy to give them a custom newspaper instead, where your pregnancy (accompanied by a funny picture of you) is the main headline.
7) A Facebook status like: 'Preheat the oven for 40 weeks. Place bun inside. Set timer for xx !!' is simple, yet totally adorable.
8) If you happen to find out that you are expecting just as Halloween is approaching, have a party where your guests should bring carved pumpkins. Never mind that you are a complete novice at carving, let go with it. You try your best to carve a pair of baby shoes, together with the due date. Lights off and wait until someone notices it.
9) If Easter is near, paint your eggs with the message: "We are expecting" and have them mixed up in a basket with standard Easter eggs. Someone will definitely notice.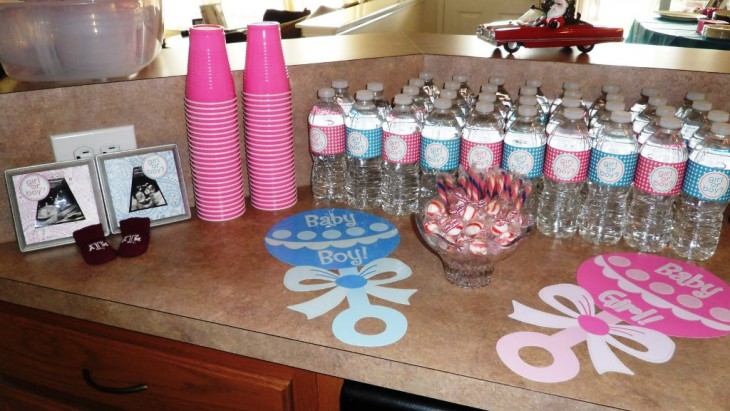 10) Order custom plush bears and if you already made up your mind with the baby's name, add it on each shirt and instead of a price tag, add the due date.
11) Every excuse is good to have a party, so even if you are not into this whole: "IS IT A BOY OR A GIRL?", you can still invite your folks over for a gender reveal party, where you serve cupcakes stating the baby's gender.
12) If hubby is willing to buy the groceries for you, make it count. Tell them that you will give him a shopping list and as you are ready to hand it to him, he'll probably notice that every food has 'baby' before it. Baby carrots, baby potatoes, baby oranges. Coincidence?
13) Record a video when you are listening to your baby's heartbeat for the first time. Then, send it to everyone you love, pretending it's just a silly music video.
14) Someone just got lucky. Fortune cookies are always fun, especially when the fortune is surprisingly accurate. But you can't get more accurate than pulling out a fortune from a fortune cookie and see your parents read a custom one that says: "In a few months, your lives will be blessed, because you'll become grandparents".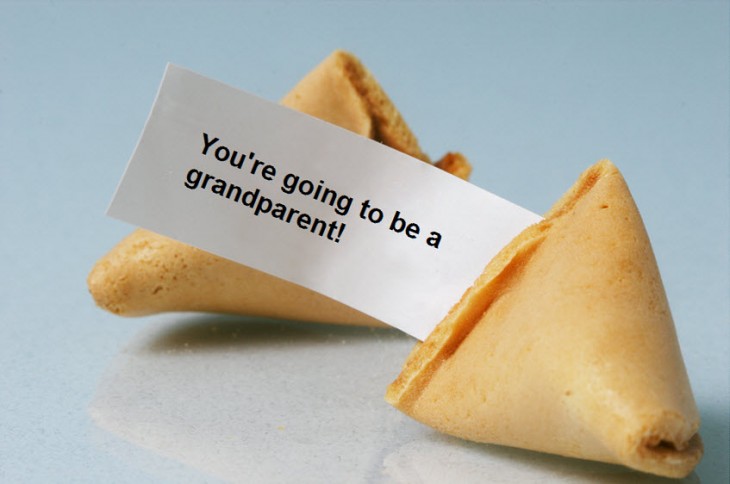 15) If you want to keep it simple, just take a couple of balloons, write your due date on one of them and hold another one that says: "Expected to POP!". In more ways than one.
16) The final countdown. Another fun way to announce the pregnancy is to get a countdown maternity shirt listing 40 weeks and X-ing the weeks that have already passed.
17) Buy a "Baby on Board" sticker, place it on your car and take a picture next to it.
18) Share the news with a funny picture where you are sitting at a table, surrounded by pickle jars and ice cream, while your partner is covering his face.
19) Take a photo where you and your family are seated, placing an empty seat right next to you, with the message "COMING SOON" placed on it.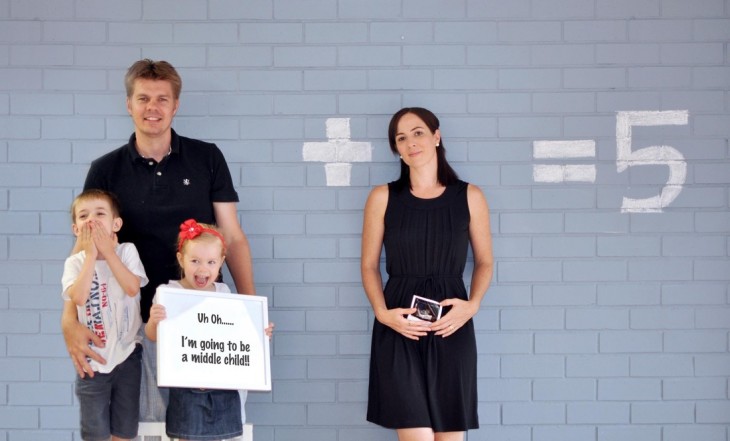 20) Have a mini blackboard on which you and your partner solved a very complicated math problem: 1+1 = 3. Snap it for all your friends to see.
21) The Prego spaghetti sauce jars might be famous for reasons that don't have to do with the sauce's taste, but hey, it's pretty cool to announce your pregnancy by holding the Prego jar.
22) String a pair of jeans of each family member out on a line, then call your family over and as they look puzzled at the clothesline, tell them you are getting new…genes. Genes. Jeans. Get it? No?
23) Say it with a Onesie. It's a simple idea, but you can customize it by adding text or by creating a superhero kind of onesie.
24) Speaking about superheroes…if you already have a child, let him dress as Batman for a day and announce that Robin (or Batgirl) will join soon as his sidekick.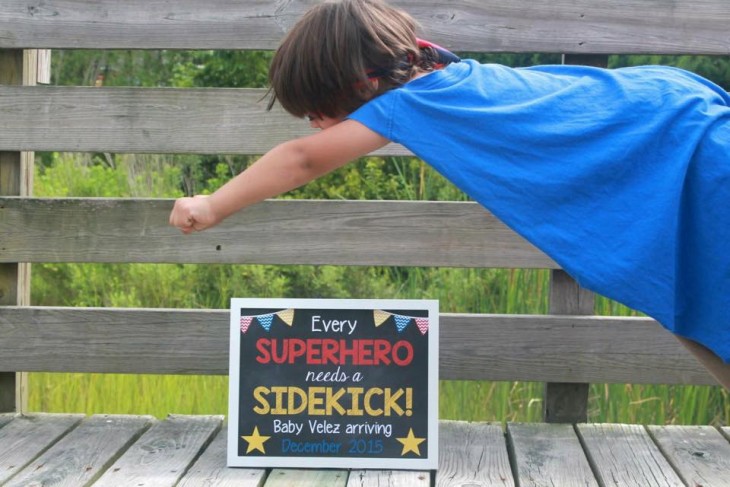 25) The classic picture of the pregnancy test. If you think it's boring and mundane, there are creative ways to take the picture. For instance, have your partner look at the result in shock. Or take a picture where he pretends to have passed out, with the test in his hand.
26) Special Stork Delivery. How cute is this? It's in the hall of fame of the cool pregnancy reveal ideas, being sentimental without falling into cheesiness. Send out packages to close family or friends and make it look like a nest, filled with baby clothes, an ultrasound, baby shoes or pacifiers. If this doesn't scream 'Baby!', I don't know what else does.
27) If you have a child already, write a To-do list for him, adding boring tasks like taking out the garbage or walking the dog. Then, as the last item, write: "Become a BIG SISTER/BROTHER!"
28) You just hit the jackpot. Give your family scratch-off cards that you bought for no apparent reason (you were just feeling lucky!) and have them scratch them. 3 identical symbols – "Oh my God, I won!" Wait, what? Well, we WON, baby is coming! One of the most delightfully deceiving and cool pregnancy reveal ideas, for sure!
29) Instead of ingredients, add the news of your pregnancy on a custom drink label. Invite your family and friends over and start the party.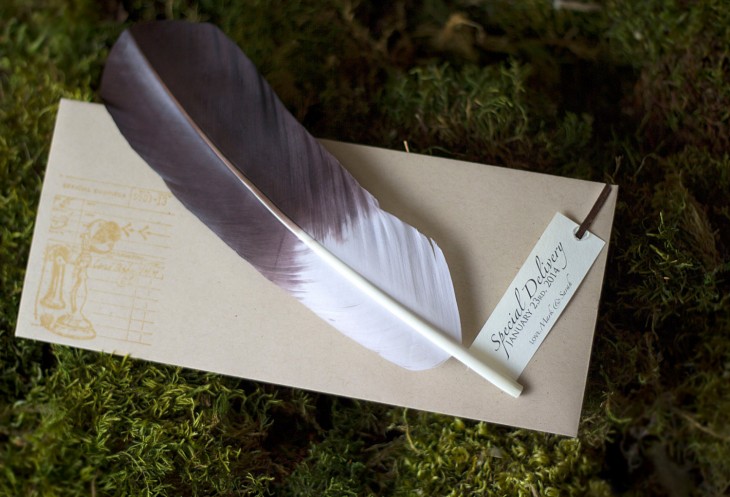 30) Take a picture where both you and your hubby wear boxing gloves (Knocked up! Get it? Get it?). If you can also get miniature boxing gloves, it's even more adorable.
31) If you are a Disneyland fan, let Mickey do the honors. Buy miniature Mickey Ears to reveal the big news.
32) Any Trekkies out there? Get ready for the next generation. A new captain is ready to take over the USS Enterprise. A Star Trek onesie is the perfect way to announce the pregnancy, if you are a fan of the series.
33) In the mood for peanuts. Tell the world that you are having a little peanut, by announcing it through a picture where you sit next to a bag full of peanuts, with you just holding one. Ok, this might take a while to figure out, so you might want go with a peanut onesie instead.
34) In the mood for love. Give your husband a flirty card which says something among the lines of: "You are probably the only person I imagined having another person with."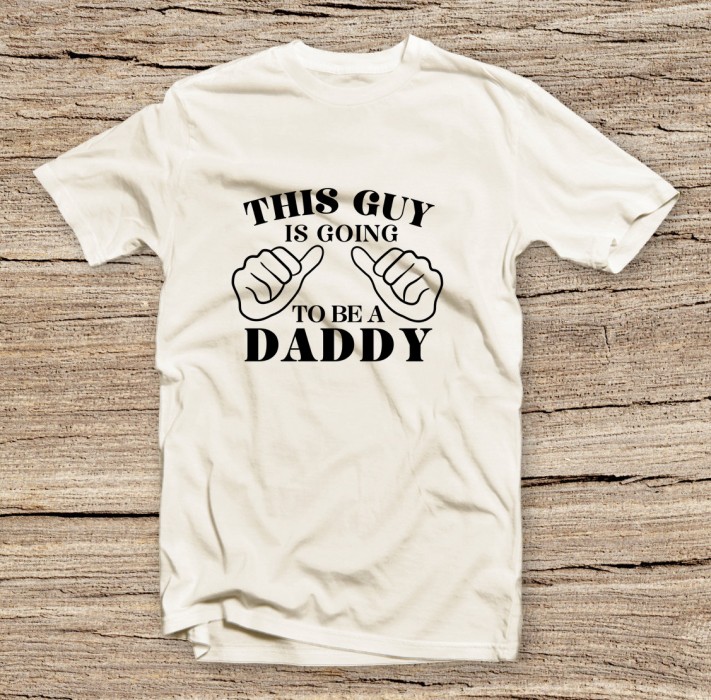 35) Give your partner a T-shirt which says: "Who's going to be a Daddy? This Guy!". While I always thought that the "I'm with her/him!" shirts had too much schmaltz, this is actually one I get on board with.
36) Hand over to your partner a jar full of candy, with a label on it that says: "I don't want to be the only one getting fat for the next 9 months". Solidarity rules.
37) Use a ceramic pen and write on your partner's dinner plate: "I am pregnant". Of course, make sure you cover the plate with plenty of food, so that it's not visible right away.
38) Message at the bottom. Serve him coffee in this new, never-before-used cup, because…why not? As he finishes his coffee, he should see written at the bottom the pregnancy announcement.
39) The hipster announcement. Take a picture of 3 Starbucks cups – except the last one in the line isn't a Starbucks cup, but a milk bottle, with the Starbucks holder around it.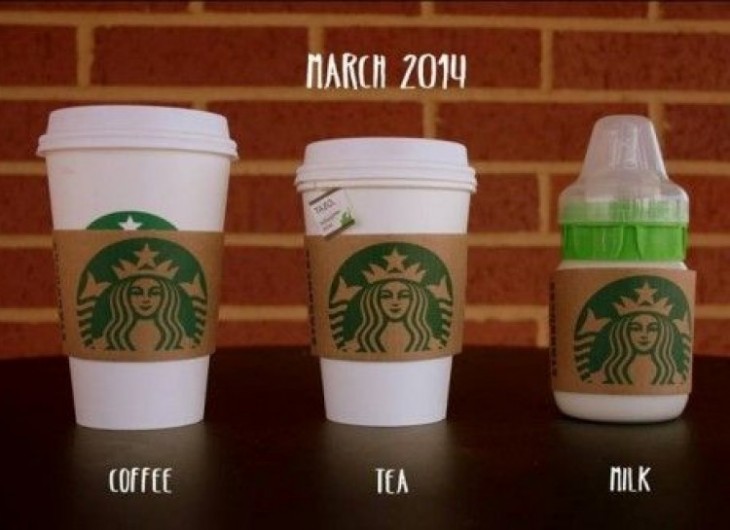 40) If you are expecting twins, take a picture where your partner has the pregnancy test in his hand, while you are having a rendez-vous with the toilet and write "We're expecting!". Then, take another picture when you are holding the result and your man is now embracing the toilet, writing "Twins!" over the picture.
41) Star-struck! If you are lucky enough to meet a celebrity, you can ask him/her to hold a sign with your name, announcing that you are pregnant. How cool is that?
42) I need my Luigi. If you already have a child, dress him up like Mario (or, if it's a 'she', dress her up like Mario's princess) and place a print above him that says "PLAYER 1 READY". On his right, stick a question mark to the wall, with the text above saying: "PLAYER 2 PRESSING START XX", where XX is the due date.
43) Take a picture where you have your hands over two plates filled with food, while your partner has two beers in his hands. You know, if you are 'eating for two', then he'll take the fall and 'drink for two'.
44) Take a picture where you have written on your belly "Pregnancy belly", while on your partner's it says "Beer belly". Sure, this might not be as effective if your man actually has a six pack though…
45) Announce it with a picture with you two sitting in bed. While you are surrounded by food…BECAUSE CRAVINGS, your partner is reading "Dad's guide to pregnancy" for dummies, with a shocked look.
46) If you have a dog, give him a pair of glasses and place many pregnancy books around him, while he's reading "How to still get treats when the humans are having a baby".
47) Say it with Prego…I mean, Lego. Let a Lego family resembling your own family do the honors. If you are crafty enough, you can create a box design which looks like an actual Lego one, except the set has the name of your family and it's a "Family Expansion Set".
48) Have you been naughty or nice? Take a picture with 3 pairs of Christmas stockings – two normal-sized ones and a tiny one in the middle and write "We've been naughty!", together with the due date.
49) Paint a loading bar on your belly and write "Loading…" with the percentage, depending on how far you are in your pregnancy.
50) Send out pictures where you and your partner read what's called the Baby Assembly and Maintenance guide. For extra hilarity, write the same title in various languages, to make it look like an actual instruction manual and place a baby vector. Give your partner a hammer and fake a state of confusion (which probably isn't even faked at all) – and voilà!
How would you announce your pregnancy?
A community of parents and parenting experts, who like to think that they are know-it-alls when it comes to raising children. Yet, they still have the occasional question marks above their heads, when their children suddenly ask them why aren't they allowed to chew on their socks. But they DO have more parenting answers than questions, which they are happy to share with the world in an informative, charming and funny manner. On Mum.info you can find out what you are doing wrong as a parent, how to do it right and how to embrace the failures.